Welcome
Important announcement from Most Reverend J. Mark Spalding, D.D., J.C.L
Bishop of Nashville
Pope Francis- united to all the Bishops and Catholic faithful around the world-will consecrate Russia and Ukraine to the Immaculate Heart of Mary on Friday, the feast of the Annunciation.
Act of Consecration of Russia and Ukraine to Our Lady:
O Mary, Mother of God and our Mother, in this time of trail we turn to you. As our Mother, you love us and know us:no concern of our hearts is hidden form you. Mother of mercy, how often we have experienced your watchfull care and your peaceful presence!You never cease to guide us to Jesus, the Prince of Peace.
Yet we have strayed from that path of peace. We have forgotten the lesson learned from the tragedies of the last century, the sacrifice of the millions who fell in teo world wars. We have disregarded the commitments we made as a community of nations. We have betrayed peoples' dreams of peace and the hopes of the young. We grew sick wit greed, we thought only of our nations and their interests, we grew indifferent and caught up in our selfish needs and concerns. We chose to ignore God , to be satisfied with our illusions, to grow arrogant and aggressive, to suppress innocent lives and to stockpile weapons. We stopped being our neighbour's keepers and stewards of our common home. We have ravaged the garden of the earth with war and by ours sins we have broken the heart of our heavenly Father, who desires us to be brothers and sisters. We grew indifferent to everyone and everything except ourselves. Now with sha,e we cry out: Forgive us, Lord!
Holy Mother, amid the misery of our sinfulness, amid our struggles and weakness, amid the mystery of iniquity that is evil and war, you remind us that God never abandons us , nut continues to look us up to new life. he has given you to us and made your Immaculate Heart a refuge of the Church and for all humanity . By God's gracious will, you are ever with us; even i the most troubled moments of our history, you are there to guide us with tender love.
We have turn to you and knock at the door of your heart. We are your beloved children. In every age you make yourself known to us, calling us to conversion. At this dark hour, help us and grant us your comfort. Say to us once more: "Am I not here, I who am your Mother?" You are able to untie the nots of our hearts and of our times. In you we place our trust. We are confident that, especally I moments of trial, you will not be deaf to our supplication and will come to our aid.
That is what you did at Cana in Gailee, when you interceded with Jesus, and he worked the first of his signs. To preserve the joy of the wedding feast, you said to him: "They have no wine"(Jn 2:3). Now, O Mother, repeat those words and that prayer, for in our own day we have run out of the wine of hope, joy has fled, fraternity has faded. We have forgotten our humanity and squandered the gift of peace. We opened our hearts to violence and destructiveness. How greatly we need your maternal help!
Therefore, O Mother, hear our prayer.
Star of the Sea, do not let us be shipwrecked in the tempest of war. Ark of the New Covenant, inspire projects and paths of reconciliation. Queen of Heaven, restore God's peace to the world.
Eliminate hatred and the thirst for revenge, and teach us forgiveness. Free us from war, protect our world from the menace of nuclear weapons. Queen of the Rosary, make us realize our need to pray and to love. Queen of the Human Family, show people the path of fraternity . Queen of Peace, obtain peace for ou rworld.
O Mother, may your sorrowful plea stir our hardened hearts. May the tears you shed for us make this valley parched by our hatred blossom anew. Amid the thunder of weapons, may your prayer turn our thoughts to peace. May your maternal touch soothe those who suffer and flee form the rain of bombs. May your motherly embrace comfort those forced to leave homes and their native land. May your Sorrowful Heart move us to compassion and inspire us to open our doors and to care for our brothers and sisters who are injured and cast aside.
Holy Mother of God, as you stood beneath the cross, Jesus, seeing the disciple at your side, said: "Behold your son"(jn 19:26). I this way he entrusted each of us to you. To the disciple, and to each of us, he said: "Behold, your Mother"(v. 27). Mother Mary, we now desire to welcome you into our lives and our history. At this hour, a weary and distraught humanity stands with you beneath the cross, needing to entrust itself to you and, through you, to consecrate itself to Christ. The people of Ukraine and Russia, who venerate you with great love, now turn to you, even as your heart beats with compassion for them and for all those peoples decimated by war, hunger, injustice, and poverty.
Therefore, Mother of God and our Mother, to your Immaculate Heart we solemnly entrust and consecrate ourselves, the Church and all humaity , especially Russia and Ukraine. Accept this act that we carry out with confidence and love. Grant that war may end and peace spread throughout the world. The "Fiat" that arose from your heart opened the doors of history to the Prince of Peace. We trust that, through your heart, peace will dawn once more. To you we consecrate the future of the whole human family, the needs and expectations of every people, the ancieties and hopes of the world.
Through your intercession, may God's mercy be poured out on the earth and the gentle rhythm of peace return to mark our days. Our Lady of the "Fiat", on whom the Holy Spirit descended, restore among us the harmony that comes from God. May you, our " living fountain of hope", water the dryness of our hearts. In your womb Jesus took flesh; help us to foster the growth of communion. You once trod the streets of our world; lead us now on the paths od peace.
Amen.
Important announcement from Father Rojas
As we all are taking precautionary measures to keep ourselves and our families safe during this virus outbreak, we ask each of you for your prayers for everyone in our parish community. We have not experienced anything like this in our lifetime. But we know our loving God continues to hold all of us in His loving care, despite our anxieties and hardships.
It is our prayer that you will stay safe and healthy and that soon we will all be gathering for mass and other activities as a parish community. We will continue to need your support through this period of time. We promise to be good stewards of the resources we have through your sincere generosity and devotion to the needs of our parish.
We wanted to share this information with you regarding a link were parish families throughout our Diocese can use to continue giving to the needs of our parish. Here is the link: https://offertory.dioceseofnashville.com/. Thank you for your help.
Please stay in touch with us by calling us at (931)735-6004 or emailing us at st.william.secretary@gmail.com when you need us.
Anuncio importante del Reverendísimo J. Mark Spalding, D.D., J.C.L
Obispo de Nashville
Anuncio importante del Padre Rojas
Como todos estamos tomando medidas de precaución para mantenernos seguros a nosotros mismos y a nuestras familias durante este brote de virus, les pedimos a cada uno de ustedes sus oraciones por todos en nuestra comunidad parroquial. No hemos experimentado algo así en nuestra vida. Pero sabemos que nuestro Dios amoroso continúa manteniéndonos a todos bajo Su cuidado amoroso, a pesar de nuestras ansiedades y dificultades.
Es nuestra oración que permanezca sano y salvo y que pronto todos nos reuniremos para misa y otras actividades como comunidad parroquial. Seguiremos necesitando su apoyo durante este período de tiempo. Prometemos ser buenos administradores de los recursos que tenemos a través de su sincera generosidad y devoción a las necesidades de nuestra parroquia.
Queríamos compartir esta información con usted con respecto a un enlace que las familias parroquiales de toda nuestra Diócesis pueden usar para continuar brindando a las necesidades de nuestra parroquia. Aquí está el enlace: https://offertory.dioceseofnashville.com/. Gracias por tu ayuda.
Manténgase en contacto con nosotros llamándonos a 931 735-6004 o enviándonos un correo electrónico a st.william.secretary@gmail.com cuando nos necesite.
Please be aware of scammers. Our secretary has been receiving non identify emails apparently coming from Father Rojas or St. Williams email. If you receive something similar, please know this is a scam do not reply. The best thing to do is to call us and informed us. Thank you for your cooperation.
Tenga en cuenta los estafadores. Nuestra secretaria ha estado recibiendo correos electrónicos no identificados que aparentemente provienen del Padre Rojas o de el correo electronico de St. William. Si recibe algo similar, sepa que es una estafa, no responda. Lo mejor que puede hacer es llamarnos e informarnos. Gracias por tu cooperación.
Welcome to our church website, thank you for your interest in our parish. Whether you are just visiting us for a brief time, looking for a new parish home or you are interested in finding out more about the Cathilic Church, we are happy to have you here.
Our mission is to grow as a Catholic Christian Community and proclaim the Good News to all through prayer, love and service.
Mass Schedule
Saturdays 5:30pm English Mass
Sunday 9:00 am Spanish Mass
Sunday 11:00am English Mass
Monday 7:00 pm Mass
Wednesday 7:00pm Spanish Mass
Thursday 8:00am English Mass
Friday 8:00am English Mass
New CDC guidelines to reimpose mask mandates that even vaccinated people return to wearing masks indoor where the delta variant of the coronavirus is fueling infection surges.
We ask all our vaccinated and non-vaccinated parishioners to wear their mask inside the church.
Pedimos a todos nuestros feligreses vacunados y no vacunados que usen su máscara dentro de la iglesia.
ANNOUNCEMENT / ANUNCIO
* Our parish has a Facebook account. Even if you do not have a Facebook account you can view our Mass. Just click on the Icon located on the righ hand corner on our website and it will take you directly to our page.
* Nuestra parroquia tiene una cuenta de Facebook. Incluso si no tiene una cuenta de Facebook, puede ver nuestra misa. Simplemente haga clic en el ícono ubicado en la esquina derecha de nuestro sitio web y lo llevará directamente a nuestra página.
---
We would like to Congratulate the Class of 2022!!
¡¡Felicitaciones a la Clase de 2022!!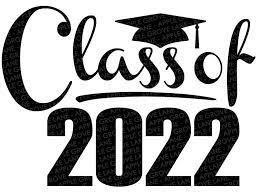 We wish you the best of luck for your new Beginning!
¡Le deseamos la mejor de las suertes para su nuevo comienzo!
---

Important Events This Month
May 20 : Confessions for the Confirmandis
May 21: Confirmation at Pastoral Center in Nashville at 10 AM
May 27: Confessions for the Holy Communions
May 28: Holy Communion at 10 AM at Our Parish
---
Eventos Importantes Este Mes
Mayo 20 : Confesiones para los Confirmandis
Mayo 21: Confirmación en el Sagrado Corazon en Nashville a las 10 AM
Mayo 27: Confesiones para las Sagradas Comuniones
Mayo 28: Primera Comunión a las 10 AM en nuestra parroquia
CCD CLASSES / CLASSES DE CCD
Catechism registrations will begin on June 1st until June 17th during office hours. Cathechism registrations should be complete during this time. Require document will include the child's baptism certificate and holy communion certificate if applicable.
---
Los registros de catecismo se realizarán para todos los niños de la parroquia a 1ra de Junio al 17 de Junio durante el horario del oficina. El registro de catecismo debe completarse y entregarse durante este tiempo. Se requerirá el certificado bautismal del niño y el certificado de la primera comunion, si corresponde.
---
Holy Days of Obligation\ Fiestas de Guardar
Vigil/ Vigilia 6:00pm Mass/ Misa
Day/ Día - 8:00am Mass, 7:00pm Misa
Reconciliation/ Confessions
Fridays 6:00pm-6:45pm
Saturdays 4:00pm-4:45pm
June/Junio 11
July/Julio 9
Marriage: See pastor eight (8) months in advance
Request forms (4 weeks prior to event, must be filled out and returned to office, Father must approved first)
| | | |
| --- | --- | --- |
| | | Sacraments |
| | |
| --- | --- |
| Events Calendar | |
" Even though I walk through the valley of the shadow of death, I will fear no evil, for you are with me; your rod and your staff , they confort me.

" Psalm

23:4
Office Hours
Monday 9:00am to 1:00pm
Wednesday 3:00pm to 7:00pm
Thursday 9:00am to 1:00pm
Friday 9:00am to 1:00pm
Mailing Address: 719 N Main Street Shelbyville, Tn 37160
Upcoming Events